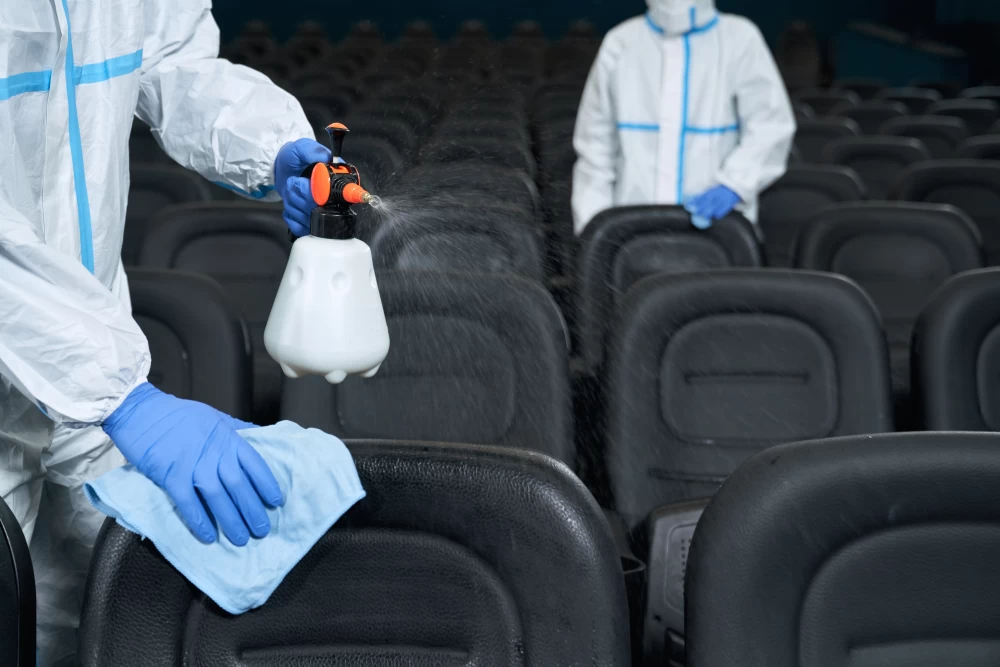 Book the Best Chair Cleaning Services in Jamshedpur
Chairs are the most used items at home, office, or hotel rooms. We use chairs for sitting, reading, watching a match, or working on PCs. You have to clean chairs regularly to make them shiny and bright. Now, you will get beautiful chairs by booking our chair cleaning service. We are among the leading providers of Chair Cleaning Services in Jamshedpur and nearby areas.
Our company Easykleen is an expert in providing chair cleaning job. We have served many clients in residential and commercial areas. Our smart cleaning team does high-quality chair cleaning at reasonable rates.
You can choose our deep chair cleaning services to get rid of the dust and dirt on your chairs. We will provide safe cleaning of all chairs at your home or office.
Why do you Need Professionals For Chair Cleaning Services?
Professionals clean your chairs in a better way. There are many reasons to choose professionals for deep chair cleaning such as:
1. Hassle-Free Cleaning
Cleaning chairs on your own include a lot of work and cost. You have to purchase cleaning solutions and equipment. In that way, it becomes a costly task to clean chairs fully. Hiring professional Chair Dry Cleaning Services will give you hassle-free chair cleaning. It also reduces the cost of buying solutions and liquid cleaners to clean your chairs.
2. Deep Cleaning of Chairs
Professional services includea full and deep cleaning of chairs of every type. It also eliminates stains and marks from the chair fully and makes them look like a new chair. An efficient cleaning team washes chairs until the stains go away completely.
3. Time-Saving Task
You do not have time to clean chairs due to work pressure. Hiring professional cleaning services will save your time and give good quality work. In this way, you can do other tasks of your home or office properly. It also saves time and hard work that you need in cleaning chairs.
4. Advanced Tools
Professionals have modern and smart cleaning tools and equipment. These cleaning tools do a complete cleaning of chairs and brighten them. Besides, they also remove stains without harming the fabric of the chairs.
Interested in this Services?
Ask for more Details & Latest Services Price
Why Choose Easykleen for Chair Cleaning Services in Jamshedpur?
Easykleen is a reliable Chair Cleaning Service Provider in jamshedpur. We have been offering top-notch chair cleaning work for different areas. There are many benefits of hiring our Chair Cleaning Services in Jamshedpur such as:
Our cleaning uses safe and eco-friendly products for cleaning chairs. Our products are free of chemicals, gases, parabens, or toxic elements. They do not harm your skin or body. Apart from that, our solutions are also safe for pets, kids, old people, and the environment. They do not cause skin infections or redness.
Rough handling of chairs might cause severe damage to them. Our Professional Chair Cleaning Services in Jamshedpur is better in every way. We have an efficient team who handles chair cleaning work efficiently. They do not damage your chairs or break any parts during cleaning cycles.
Different Cleaning Packages
We at Easykleen offer different chair cleaning packages for various clients. Our cleaning packages include customized cleaning tasks according to the budget of different clients. You can choose any cleaning package that suits your requirements and needs. Customized cleaning packages will fulfill the need of every client.
Multiple Cleaning Services
Chair cleaning is our major service. Apart from the chair, we also clean the sofa, mattresses, and carpets for residential and commercial areas. You can pick any cleaning service from our package that suits your needs and requirements. We also offer discounts on comprehensive cleaning packages. If you are finding Chair Cleaning Services near me, choose Easykleen.
We offer the best office Chair cleaning services in Jamshedpur to all the clients. We hire a hard-working and smart team for cleaning tasks. Our team is friendly, polite, and smart in its work. Our cleaners also follow strict social distancing rules and wear a face mask. They also have a license to clean the chairs.
Interested in this Services?
Ask for more Details & Latest Services Price
FAQs
It hardly takes 1 hour for the chair to dry. If you want speedy drying of the chair, it is necessary to turn on fans of the room. You can also turn on air coolers to let your chairs dry completely. It also depends on environmental conditions and the type of chair's fabric.
Cleaning the chair takes 10 to 15 minutes. However, it can also take a long time if the chair contains dust, pollutants, and germs. We provide high-quality Chair Cleaning Services at Home using our efficient cleaning tools. Our smart tools clean chairs speedily.