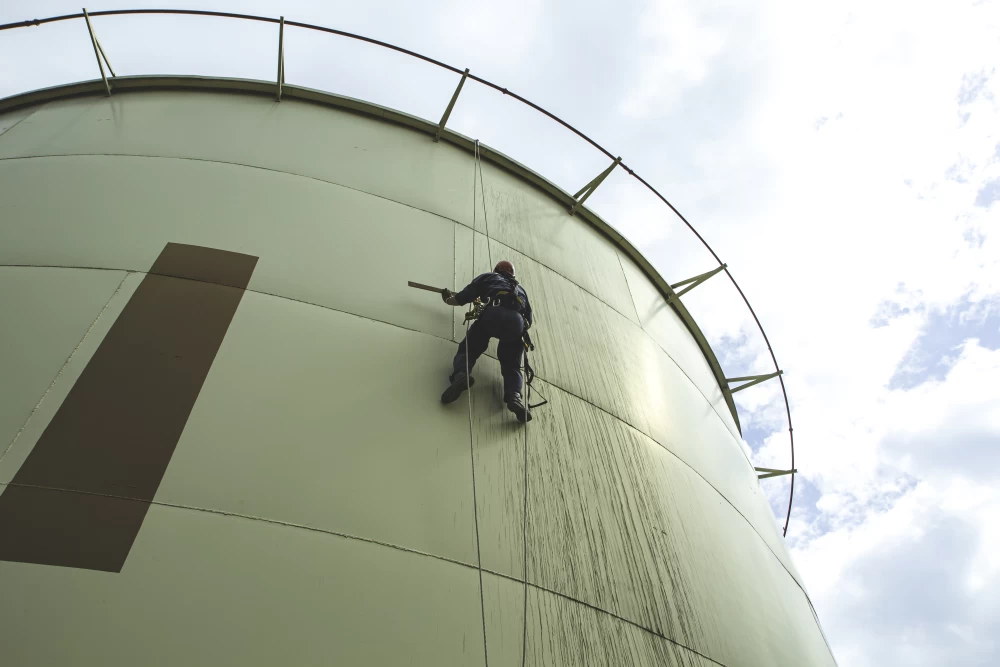 Water Tank Cleaning Services in Jamshedpur
The water tank needs regular cleaning. We often do not choose water tank cleaning on regular basis due to busy schedules. Water tanks get dirty due to sediments, pebbles, stones mud. Dirty water is harmful to cooking, drinking, bathing, and other uses. Washing a water tank is very necessary every month or two months. We provide accurate Water Tank Cleaning Services in Jamshedpur at affordable rates.
Our cleaning staff will come to any place on short notice. We also wash and clean water tanks by removing all the waste materials. We cater to the needs of every customer and work to provide them with a healthy living. Besides, we also use powerful Water Tank cleaning equipment to scrub tanks thoroughly.
We use good washing solutions for water tanks. You can book a water tank washing schedule according to your convenience. It is easy to book a schedule for tank cleaning on our official site or through a toll-free number. We at EasyKleen give premium quality tank cleaning services for commercial and residential areas.
Types of Water Tank Cleaning Services in Jamshedpur
We do a systematic procedure of water tank cleaning for homes, offices, and other areas. We at EasyKleen provide various kinds of Water Tank cleaning in Jamshedpur such as:
1. Mechanized Dewatering
In this method, we use special equipment to remove dirty water from the tanks. We also remove algae and bacteria and dirt from the tank.
2. Removal of Sludge
The next method is sludge removal. In this process, we remove the sludge that is accumulated at the bottom of the tanks. Our pumping tools will eliminate the sludge of water tanks.
3. High-Pressure Cleaning
High-Pressure cleaning includes washing of walls and ceilings of water tanks. We use specialized pressure jet cleaners to remove algae and bacteria from walls. This method helps to stop the growth of algae and bacteria.
4. Vacuum Cleaning Method
This is another method of water tank cleaning in which we use an Industrial Vacuum cleaner to eliminate contaminants and germs. This vacuum cleaner will make your tank germ-free. This method is generally used for large residential and commercial areas.
5. Anti-Bacterial Spray
Bacterial growth contaminates water and makes it unfit for use. Our team uses eco-friendly antibacterial agents to remove bacteria and algae from the walls of water tanks. Our special sprays stop bacterial attacks in water tanks and purify water as well.
6. UV Radiation Method
UV radiation method disinfects water and eliminates germs and other bacterial growth. We use a high-quality UV radiator to kill germs and bacteria that harm water. This method is used for different types of water tanks in homes, offices, and other commercial areas.
Interested in this Services?
Ask for more Details & Latest Services Price
Why Choose Easykleen for Water Tank Cleaning Services in Jamshedpur?
EasyKleen has created a good image in Water Tank Cleaning Services in Jamshedpur and nearby locations. Our best water cleaning services suit the budget of every customer. There are various reasons for choosing our services such as:
Clean Water Tanks After The Process
We use modern equipment for cleaning water tanks. Our cleaning tools and equipment remove algae, dirt, grime, pebbles, and bacteria from water tanks. They also purify water for drinking, cooking, and other uses. You will get a hygienic and bacteria-free water tank after hiring our cleaning process.
The Efficient Staff of Water Tank Cleaning
We at EasyKleen hire a smart and hard-working group of cleaners. Our team of professionals has experience of more than 10 years in cleaning every type of water tank. Besides, our cleaning group also knows all the latest techniques to clean water tanks.
Drinking impure water causes many health issues such as fever, a stomach infection, vomiting, and so on. Regular cleaning of water tanks at home and offices promote healthy living. It also reduces the chances of stomach diseases and other health issues.
Booking our Water Tank Cleaning Services at Home and office purifies water fully. Our water cleaning services remove germs and bacteria from water and improve its taste as well. You will get clean and pure water for drinking, bathing, and other uses.
Interested in this Services?
Ask for more Details & Latest Services Price
FAQs
Generally, water tank cleaning should be done every 3 to 6 months. If the water tanks are made of plastic, you will need a yearly cleaning. We offer the best Water Tank cleaning services in Jamshedpur at affordable prices. Our packages also include various options for tank cleaning according to the needs of home, office, hotel, restaurant, and other places.
Cleaning of water tanks normally takes between 4 and 5 hours. It might take a long time if the water tanks are larger and bigger in your homes or offices.