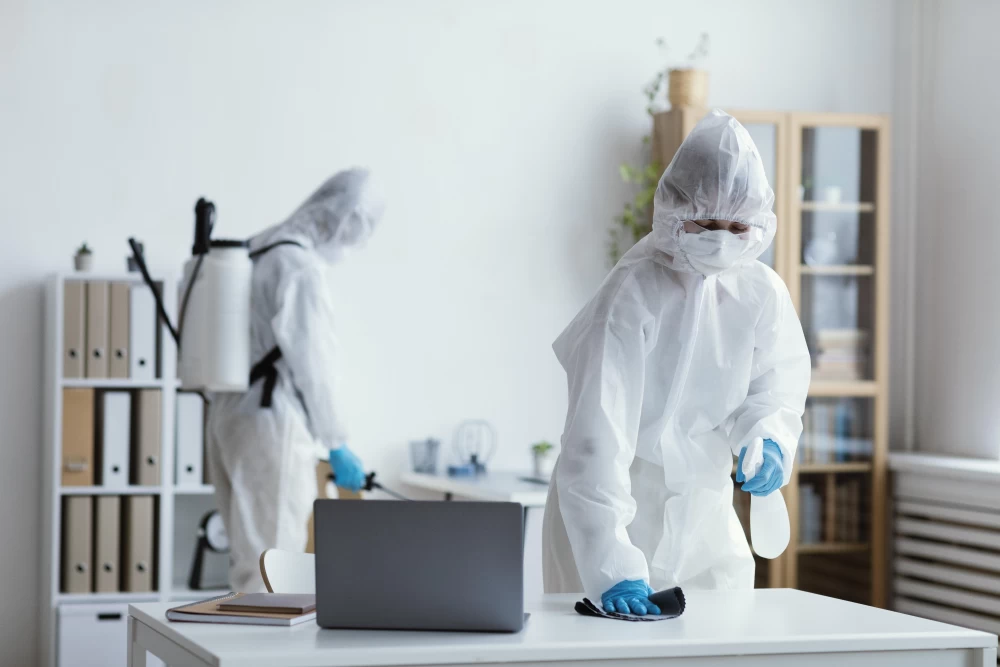 Sanitization Services in Jamshedpur
Pandemic has made a lot of changes in our personal and professional lives. Today, we find that offices, airports, schools, banks, colleges, and many other commercial areas are taking ample measures for public safety. Even many homeowners choose professional cleaning services for the safety of their families. We at EasyKleen offer the best Sanitization Services in Jamshedpur.
Our superior grade sanitization services make your homes and workplaces. We have a good cleaning and sanitization team with sound knowledge. Our team also uses safe and eco-friendly products to sanitize your homes, schools, colleges, and other areas.
We offer special discounts on commercial and residential sanitization packages. Apart from that, we also send our cleaning team on the spot in any area of Jamshedpur. We work according to the needs of every customer. Moreover, we aim to provide a germ-free and hygienic environment for living and working.
In addition to that, our sanitization service removes all the germs and bacteria from every surface. We work according to the highest industry standards. Furthermore, our services are reasonable and suit the budget of every customer.
Types of Sanitization in Jamshedpur
Sanitization is the process of making any area germ-free and clean. We at EasyKleen offer different types of sanitization methods for every customer such as:
1. Cleaning The Surfaces
To make any area free of germs and bacteria, it is necessary to clean it thoroughly. First of all, we use some basic cleansing agents such as bleach and water to clean the surfaces. Bleach is one of the best solutions to give germ-free surfaces. Apart from these basic ingredients, we also use some detergents to clean areas.
We clean areas by scrubbing and removing dark stains of ink, grease, and oil. We also mop floors and make them clean.
2. Disinfecting The Surfaces
The next step we do after cleaning is disinfecting the surfaces. We use effective disinfectants to remove bacteria, germs, and viruses. Disinfecting any surface will not only remove stains but also remove bad odors from toilets and washrooms. Moreover, our disinfectants will give a shining look to your bathrooms, floors, and washrooms.
3. Sanitizing The Areas
The final method that we do is sanitization. In the sanitization method, we use eco-friendly sprays on every surface. Our sprays will kill germs instantly and stop their growth for a long time. These products also remove odors and bad smells. They also remove water stains and other marks within a few seconds.
Interested in this Services?
Ask for more Details & Latest Services Price
Why Choose Easykleen for Sanitization Services in Jamshedpur?
EasyKleen has been working effectively to sanitize many homes and workplaces for a long time. There are many benefits in hiring us for your residential and commercial areas such as:
At one call, our sanitization and cleaning team will come to your location. We offer the best grade services of Sanitization in Jamshedpur for commercial and residential areas. Our team also works on holidays and weekends. Moreover, our Sanitization Services in Jamshedpur are open throughout the year.
We at EasyKleen hire an experienced and professional group of cleaners. Our team is experienced in cleaning and sanitizing every area. Besides, our professionals also use a face mask, hand gloves, and other safety tools during sanitizing process. Moreover, we check the background and qualifications of every cleaner while hiring him.
If you are searching for affordable Sanitization Services near me, choose EasyKleen. We offer affordable and premium-grade sanitization services for offices, apartments, airports, and other areas. You can also make customized packages by adding your options. We also offer discounts on advanced booking of cleaning services.
We use only safe and certified products to sanitize areas. Our sprays and disinfectants do not harm the environment, pets, or humans. They also remove bad odors and hard stains of water and soap quickly. Our products are safe for long-term use.
We offer the best Sanitization services in Jamshedpur at low prices. Our sanitization services make every home and workplace safe and hygienic. Our cleaning services remove germs, algae, and bacteria from every part and increase the safety of your homes and offices and colleges.
Interested in this Services?
Ask for more Details & Latest Services Price
FAQs
sanitation services, sanitation services in Jamshedpur, home sanitizing services, home sanitizing services in Jamshadepur, home sanitization services, home sanitization services Jamshedpur, sanitization services near me
Sanitization Services at Homeand offices take about 2 to 4 hours. This process includes cleaning, disinfecting, eliminating smells, and sanitizing. However, the time may vary according to the area of home and office.