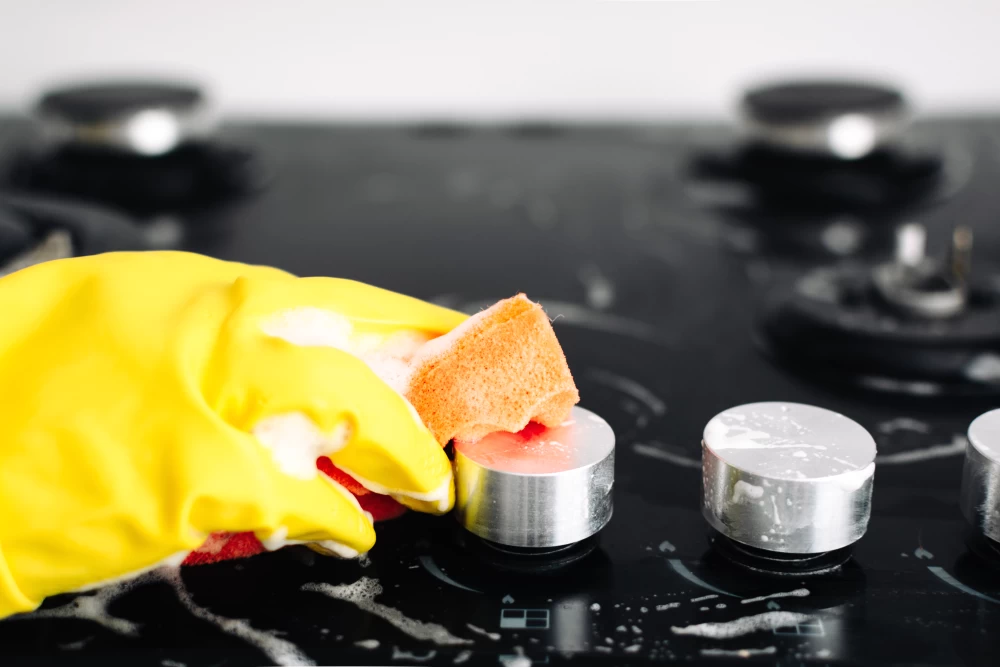 Home appliances simplify our regular tasks. We have a wide range of home appliances such as refrigerator, coffee maker, toaster, mixer grinder, and other machines. Regular use of these appliances leads to the accumulation of oil, grease, bacteria, and germs. It is necessary to clean home appliances regularly for a healthy environment.
EasyKleen is one of the most reputable names in Home Appliances Cleaning. We offer the best quality cleaning of home appliances. Our cleaning solutions are safe for every home appliance. Apart from that, our solutions also remove oily and greasy marks from toasters, mixer grinders, and other appliances.
We offer Home Appliances Cleaning in Jamshedpur on all days. Our cleaning services will also extend the life of your home appliances. You will get a clean atmosphere in your kitchen. Moreover, clean home appliances will keep infections and diseases away from your family and pets.
You can call our Home Appliances Cleaning Services anytime. Our cleaning staff will arrive within a few hours at your home with powerful cleaning solutions and tools.
Types of Home Appliances Cleaning in Jamshedpur
We at EasyKleen provide reasonable cleaning services for every home appliance of your home. Our different kinds of home appliance cleaning services are as under:
1. Microwave Cleaning
Ovens and microwaves are home to many bacteria and germs. They get dirty daily because of cooking and heating processes. We offer affordable oven cleaning services for homes and restaurants. Our competent team will remove grease and oil stains from ovens and make them fresh. We give you fresh-smelling microwaves and ovens for daily cooking.
2. Other Kitchen Appliances Cleaning
There are several appliances in your kitchen for routine use. We take up the cleaning service of every kitchen appliance that you require daily. We clean the range hood, refrigerator, chimney, grill sandwich maker, and toaster. Our powerful brush and scrubbers can remove food residue and oil marks instantly. We also use some solutions that make your kitchen appliance fresh and clean.
3. Washing Machine Cleaning
Even your washing machines need a regular cleanup. Soap residue and water reduce the efficiency of the motor of the washing machine. Our Home Appliances Cleaning Services at Home include washing machine cleaning. We remove wastes collected due to washing processes and soap leftovers of the machine. Besides, our team also checks the motor and other parts of the washing machine.
4. Dishwasher Cleaning
Another important appliance for daily use isthe dishwasher. It also needs regular cleaning like other home appliances. We clean every part of the dishwasher and remove tough stains effectively. We also clean the inner portion of the dishwasher for effective use.
5. Small Appliances
We also clean small home appliances such as toasters, sandwich makers, coffee makers, pasta makers, and other things. Our team uses modern liquids and solutions to clean these home appliances.
Interested in this Services?
Ask for more Details & Latest Services Price
Why Choose Easykleen for Home Appliances Cleaning Services in Jamshedpur?
If you are searching for the best Home Appliances Cleaning Services in Jamshedpur, choose EasyKleen. We offer the most affordable home appliance cleaning for commercial and residential projects. There are various reasons for choosing our service such as:
Deep Cleaning of Every Appliance
We clean every home appliance properly with powerful solutions. Our high-quality scrubbers and brushes clean all the home appliances from deep within. You will get shiny home appliances within some hours.
The Professional Group of Cleaners
We hire an experienced and smart cleaning team for every project. Our cleaning team knows cleaning every type of home appliance. Apart from home appliances, our team also cleans many industrial machines and commercial gadgets. They are licensed and give high-quality cleaning work without any damage.
Chemical-Free Cleaning Solutions
We at EasyKleen use certified and odor-free solutions for cleaning every home appliance. Our solutions are safe and do not cause allergies or skin infections. They do not harm the environment or pets.
We offer customized packages for home appliance cleaning. You can pick any options that you need and add them to the packages. We also offer discounts on some packages for regular customers.
Interested in this Services?
Ask for more Details & Latest Services Price