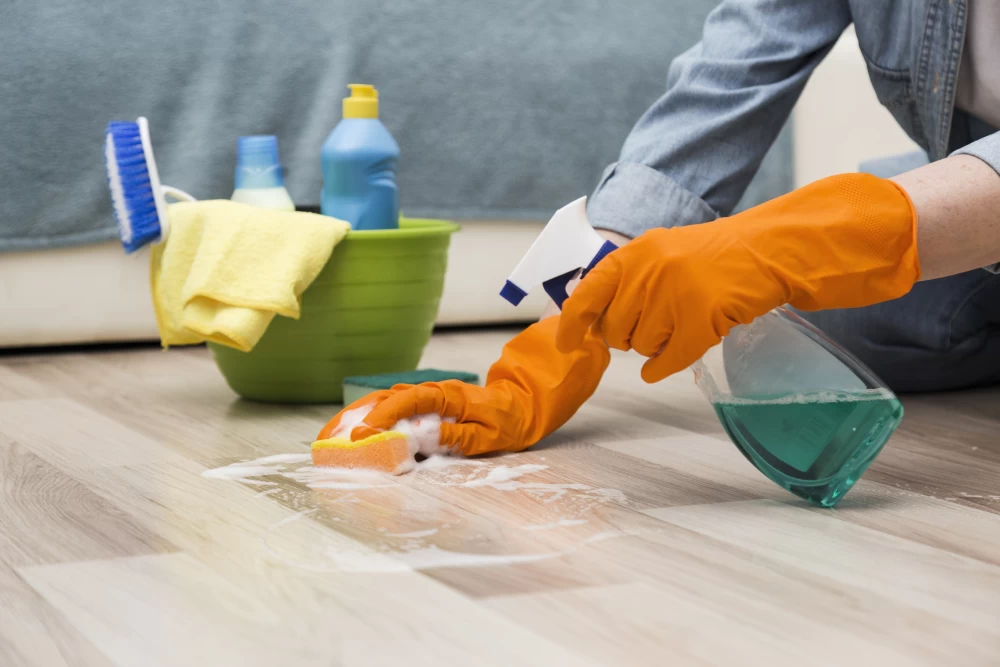 Deep Floor Cleaning Services in Jamshedpur
House cleaning is a daunting task for many homeowners especially those who have large homes. It is a very tough thing to maintain large homes with stairs. But do not worry as we at EasyKleen will clean your homes within a few hours. We offer the best floor cleaning and floor scrubbing Services for large homes, restaurants, hotels, apartments and office floor.
Our team is well-trained in scrubbing every type of floor. We also use eco-friendly products and solutions to wash floors and stairs. Besides, we will also use modern cleaning tools to wash floors and stairs. We will remove oil stains, grime, dirt, pet hair, and other garbage from the floors fully.
We provide high-quality deep floor cleaning services for both commercial and residential establishments. Our cleaning team arrived at one call anywhere in Jamshedpur. We also fulfill the demands of clients and work according to their expectations. Our stairs and floor cleaning services in Jamshedpur will give a classy look to your homes and offices.
Types of Floor and Stairs Cleaning in Jamshedpur
There are various kinds of floor scrubbing for commercial and residential projects such as:
1. Simple Process of Scrubbing
In this method, we use a good scrubbing brush and floor cleaning machine to remove stains. These tools will remove grime fully and make floors shiny and clean.
2. Mopping the Floors
The next process of floor cleaning is mopping. We use a damp mop or dust mop to clean the floors. Soft and synthetic fibers clean the floors and stairs thoroughly by eliminating stains and grime and dust.
3. Scarifying
In this method, we use a wire brush cutting tool to remove dirt and grime. It has a chisel-like action that removes a thick soil layer. This is a modern and effective method for scrubbing floors.
4. Burnishing or Polishing
Burnishing is one of the latest methods of floor cleaning. It is a dry method in which there is no use of polish spray. Rotary floor cleaning tool moves speedily to clean floors and makes them sparkle by giving a glossy touch.
5. Spray Cleaning
The spray cleaning method is generally used in homes with glossy floors. We use a safe spray on polished floors to remove germs, dirt, and grime. You will get a smooth floor by choosing this method.
6. Buffing
Buffing is a method carried out after scrubbing. It includes using a polishing solution and rotary floor machine. This machine will enhance the polish of your floors.
Interested in this Services?
Ask for more Details & Latest Services Price
Why Choose Easykleen for Floor Cleaning Services in Jamshedpur?
EasyKleen is a good name in the floor cleaning industry. We offer the best Floor and Stairs scrubbing services in Jamshedpur for offices, banks, homes, schools, and other establishments. There are many reasons to choose EasyKleen such as:
If you are finding reputable Floor cleaning services near me, choose EasyKleen services. We will use modern cleaning equipment and tools to clean floors and stairs cleaning. Our equipment will remove dust, stains, grime, and other wastes from the floors effectively. They will also make your floors hygienic and shining within a few hours.
Well-Trained Cleaning Team
We have smart and well-trained cleaning staff in EasyKleen. Our cleaners have good knowledge in cleaning every kind of floor efficiently. Our team also has a license to provide services of floor scrubbing. They will scrub every part of the floor where you do not notice dirt in day in day life. Moreover, our team arrives in any part of Jamshedpur on one call.
Our team of cleaners uses safe and eco-friendly solutions to clean floors and stairs. Our safe solutions do not harm your health or skin. They also eliminate stains and dirt within some minutes.
Your floors will look fresh and shiny for a long time after hiring our Floor cleaning and Stairs scrubbing services in jamshedpur. We use powerful solutions for cleaning floors and stairs of your homes and offices. You will get a healthy and safe environment for working and living as well.
Interested in this Services?
Ask for more Details & Latest Services Price
FAQs
Scrubbing the floors and stairs properly takes around 20 to 25 minutes. A solution is applied on the floors and stairs. Then we scrub floors and stairs using a powerful brush and tools. You can contact us for the best Floor and Stairs scrubbing in Jamshedpur.
Yes, our cleaning team will arrive at your home or office even on weekends and public holidays. We do not charge extra fees for working on weekends or holidays. Our Floor and Stairs scrubbing Services at Home and office are available throughout the year. You can co tact our team through a phone call or message.