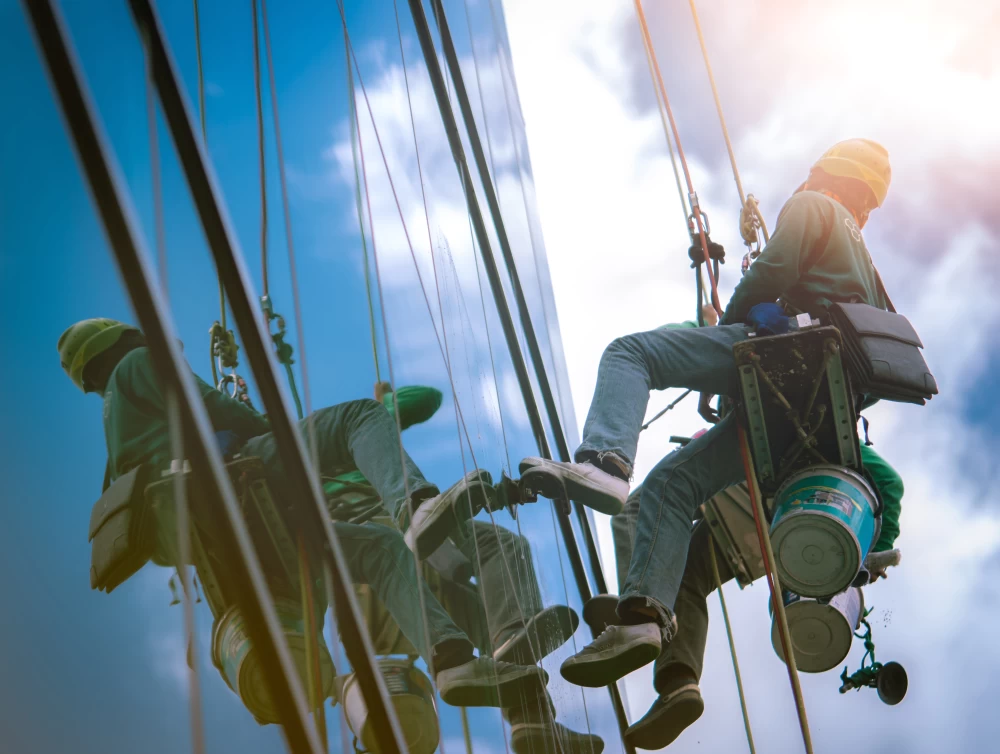 Glass cleaning is a very risky job for many people. You might hurt yourself or the glasses often break during the cleaning process. Whether it is a dressing table's mirror or window glass, you need to clean it regularly. If you want the best Glass cleaning Services, contact EasyKleen. We offer superior grade glass cleaning services in different parts of Jamshedpur.
Our talented team has efficiency in cleaning every type of glass. Apart from that, our team also has special equipment to wipe costly glasses. We will come to any place in Jamshedpur within a few hours. Our smart cleaning team will make your glass neat and clean within a few minutes.
We use the latest glass cleaning solutions to clean the glass properly. Our efficient team of cleaners will remove stains and marks of glass with eco-friendly sprays. Besides, our team also uses special sprays to remove germs and dust. We clean every glass of your home in a short time. Our packages of glass cleaning are affordable and suit the needs of every client.
Types of Glass Cleaning Services in Jamshedpur
There are several kinds of glasses in your home such as window glass, drawer glass, dressing table glass, and so on. Each type of glass needs a different kind of cleaning. We at EasyKleen clean every type of glass within a few seconds. Our cleaning team provides different types of glass cleaning services such as:
1. Heat Strengthened Glass Cleaning
Heat-strengthened glass is normally used in windows of large apartments and homes. It can break easily with a hit or force and needs careful handling. Our skilled team of Glass cleaning in Jamshedpur knows how to clean heat strengthened glass easily. Our cleaners will remove dust and debris from the glass and make it shine with good solutions.
2. Low-E Glass Cleaning
Low-E glass is not a very popular type of glass. It is made of a special film that blocks the way of UV rays from entering your home or office. This coating needs a special type of cleaning services. We use premium quality sprays and liquids to clean Low-E glass windows. Moreover, our skilled cleaning staff gives an attractive look to your windows.
3. Annealed Glass Cleaning
Many homes and workplaces choose annealed glass for windows and doors. We also clean annealed glass with high-quality products and sprays. Our sprays will remove dust, mud, and allergens effectively from the glass. We will also use a special germ killer to kill germs and bacteria. Annealed glass takes a few minutes to clean.
4. Insulated Glass Units Cleaning
Insulated glass units are mostly used in commercial buildings. They are tempered and processed and need a special kind of cleaning. We also take up washing and cleaning of insulated glass units. Our high-quality products will remove dirt and debris from windows.
5. Tempered Glass Cleaning
Tempered glass cleaning is a very time-consuming task. It is also known as safety glass and you need high-grade products for cleaning tempered glass. Our professionals have good experience in cleaning tempered glass. They clean the glass without harming it. Clean windows will make you feel fresh while working at the office or relaxing at home.
We clean all the above kinds of glasses with affordable products. Our glass cleaning services are safe for every residential and commercial area. You can also pick our comprehensive cleaning packages that include sofa cleaning, bathroom cleaning, and home cleaning
Interested in this Services?
Ask for more Details & Latest Services Price
Why Choose Easykleen for Glass cleaning Services in Jamshedpur?
We at EasyKleen give high-grade Glass Cleaning Services in Jamshedpur at affordable prices. Apart from affordable rates, we also give various benefits to the customers such as:
Our professionals use special cleaning equipment and tools for cleaning every kind of glass. They also bring durable brushes and mops to wash windows and remove debris. Besides, our team also uses certified sprays and cleaners to clean every type of glass. Whether it is a greasy stain or debris, our sprays will remove all the debris within a short time.
We have a licensed and experienced team of cleaners for facade glass cleaning in jamshedpur. Our team is efficient and takes care while cleaning every type of glass. They do not break or damage any glass during the cleaning process.
EasyKleen's cleaning team gives speedy service to every customer. Our professional team will arrive within an hour at your home, office, or school to clean window glass and other types of glasses.
We offer the best facade glass cleaning services in Jamshedpur for commercial and residential areas at reasonable prices. Our glass cleaning packages do not include hidden fees or extra charges. You can also pick customized glass cleaning packages for your shops, homes, hotels, and workplaces.
Interested in this Services?
Ask for more Details & Latest Services Price
FAQs
In large homes, it normally takes about 2 hours to clean glass. We clean glass from inside and outside with special mops and brushes. If the glass has sills and a screen, it normally takes about 3 hours to clean those glasses. If you finding for reputable Glass Cleaning Services near me, choose EasyKleen.
Yes, we offer Glass cleaning Services at Home, office, hotel, restaurants, and shops for the whole year. We also work on festival days and public holidays. Our team does not charge extra fees for working on holidays or weekends.