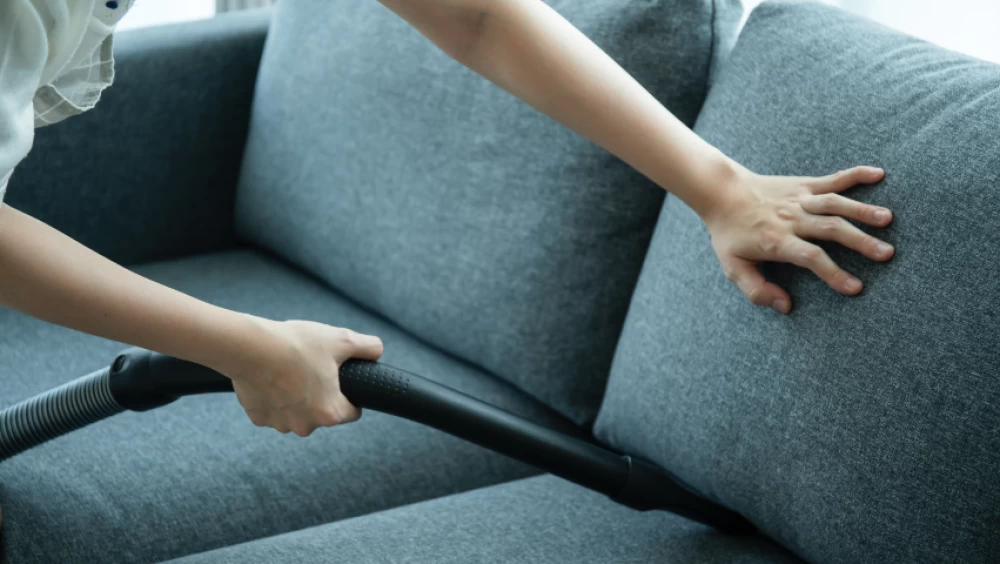 Choose the Best Sofa Cleaning Service in Jamshedpur
The sofa takes a central place in your drawing-room. Just like we clean home, it is also necessary to clean Sofas every few days. If you have lack of time and got tired by the dirty sofa, choose our Sofa Cleaning Services. We at Easykleen do deep cleaning of sofa and Couches with our smart tools.
We have an experienced team of cleaners for deep sofa cleaning. Our cleaning staff cleans every kind of sofa efficiently. We also use safe cleaning solutions for every sofa. Our effective cleaning equipment cleans the sofa from every corner. Your sofa and couch will shine brightly by choosing our services.
Why you must choose professional cleaning services for your sofas?
Professional cleaning is necessary for a sofa because of many reasons such as:
Removal of Stains and Marks
We spend a large part of the day on the sofa while watching TV or working on laptops. Sofas get dirty and dull because of stains of coffee, ink, tea, and food. Our Sofa Dry Cleaning services include the removal of stains and marks from the sofa. We use effective solutions to remove stains, dirt, and marks from the sofa.
Quick Service
Professionals arrive at your place within some hours. You can call them or send an email tothe Sofa Cleaning service. Professionals finish the full cleaning of the sofa and couch quickly. They also have efficiency in cleaning every kind of sofa and couches. We also offer multiple other cleaning services including home cleaning, floor cleaning, office cleaning, carpet cleaning and pest control services etc.
Affordable Cleaning
Everyone loves to clean his/her sofa. But the major hassle in cleaning the sofa yourself is the cost. You have to buy cleaning equipment and cleaning solutions to clean your sofa. It gets a very expensive thing to clean the sofa at home. On the other hand, professional cleaners clean the sofa at reasonable rates.
Saves Time
You cannot clean a full sofa in a day. You will take an off from the office or skip lunch to clean your couch or sofa sets. Professional Cleaning Services for Sofa save your time and extra effort. The cleaning team will arrive at one call and clean the full sofa within a few hours. You don't have to spend the full day cleaning your sofa or skip office work.
Interested in this Services?
Ask for more Details & Latest Services Price
Why Choose Easykleen for Sofa Cleaning Services in Jamshedpur?
We at Easykleen offer top-quality Sofa Dry Cleaning Services for residential and commercial places. There are many reasons to choose our sofa cleaning service such as:
1. Licensed Professionals
We have a powerful cleaning team in our company. Our professionals also have a license and other important documents. Besides, our team also has experience in cleaning every type of sofa. They are polite and efficient in work and also have a clean background. Our cleaners do not harm any item in your home or office during the cleaning process.
2. Eco-friendly Solutions
Our cleaning staff uses safe and eco-friendly solutions to clean the sofa. Our solutions do not harm your skin or kids. They are safe for old people, pets, the environment, and even adults. Apart from that, our cleaning solutions also remove stubborn stains and make your sofa look new and beautiful.
3. Modern Cleaning Equipment
We at Easykleen use new cleaning tools and equipment to clean Sofa cum Beds. Modern equipment performs high-quality cleaning work within a short time. Our cleaning tools are made from high-grade materials that do not harm your health or cause skin allergies.
4. Customized Packages
We offer customized packages of Sofa Cleaning in Jamshedpur for homes, offices, hotels, and restaurants. Our rates are affordable in the town and we include a deep cleaning of the sofa. Apart from sofas, we also clean Recliners, couches, and beds.
5. Premium Quality Service
If you want the best sofa cleaning services in Jamshedpur, choose Easykleen. We have smart cleaning staff in our company. Our cleaners provide high-quality sofa cleaning work at affordable rates.
Interested in this Services?
Ask for more Details & Latest Services Price
FAQs
Normally, the sofas take between 8 and 12 hours to dry completely. If you want to dry the sofa quickly, you must switch on fans. This technique will give you a dry sofa within 4 to 5 hours.
If you are finding Sofa Cleaning Services near me, choose our service. We offer excellent Sofa Cleaning Services in Jamshedpur for offices, homes, hotel rooms, restaurants, and pubs.
The time to clean a sofa depends on the size and material. If you have a 3 piece sofa set, it takes about 3 hours to clean the full sofa set. The sofa set of 2 pieces generally takes about 2 hours for deep cleaning. Some other factors are considered in determining the time to clean the sofa such as the number of cushions and type of fabric.